[Text|High-tech LED reporter Lu Qiujia] On April 21st, sponsored by Gaogong LED, Gaogong Research Institute LED Research Institute (GGII), Zhejiang Province Lighting Association, "2015 High-tech LED Supply Chain Good Product Tour" The first stop of Hangzhou Station ended successfully at Hangzhou Wanhua International Hotel.

Sunlight Lighting, Hongli Optoelectronics, Zhongheng Paiwei, Smect, Mingwei Electronics, Hyun Shuo Optoelectronics, Kegu Power, Maple Yongming and Saudi Basics and senior managers gathered together. The conference attracted many local LED industry participants, and the number of visitors far exceeded expectations.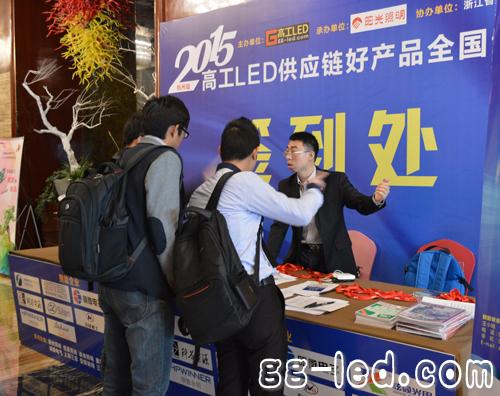 reception table

As Dr. Zhang Xiaofei, Chairman of Gaogong LED, said, "The first stop for Hangzhou as a tour of East China has a certain origin. The interaction between East China and South China is very important. From upstream to downstream, there must be a clear interactive plan. The exchange of products and technology, and actively carry out business cooperation to jointly face the more intense competition in the next industry."

Industry meet market changes

<br> <br> Dr. Zhang Xiaofei at the meeting said the new round of industry changes, companies have to identify the direction. The upstream market share is more and more concentrated, and small and medium-sized chip manufacturers are in jeopardy. Therefore, the selection of chips should be noted; the large-scale enterprises in the middle reaches are expanding production, most small and medium-sized enterprises are stagnant, and it is better to find a way out earlier; downstream enterprises are facing shuffling, traditional lighting enterprises Re-position, small and medium-sized enterprises can choose professional focus.

Wang Gaoyang, director of Hongli Optoelectronics, a large domestic packaging company, said, "Currently, LED packaging devices are changing with each passing day, from SMD to COB, from flip-chip to chipless packaging, which has injected a lot of new vitality into the development of the industry. Nowadays in the industry The popular mainstream lamp 2835 has also become the main product of Hongli."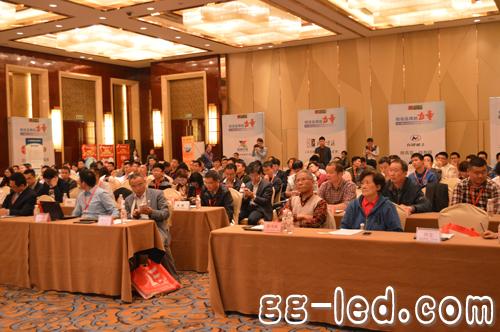 meeting venue

From the current market situation, thermal plastics have made great progress in modification. Two or three years ago, the thermal conductivity was only about 6W/mK, and now it can be 20-30W/mK. After the technology continues to be upgraded and optimized, it will achieve better results.

"Currently, in the field of LED heat dissipation, terms such as 'polymer' and 'composite' have begun to flood people's eyes. With the overall improvement of the thermal conductivity of plastics, it seems to have the ability to fully enter the LED field." Saudi Basic Innovation Wu Libo, senior account manager of Plastics (Sabic), said in his speech.

In the downstream application field, Zhan Hao, deputy director of the marketing department of Maple Yongming, argues that modularization will be the way out for LED street lights in the future.

"Compared with the full-page street lamp, the modular street lamp can use air convection to dissipate heat, which is very beneficial to heat dissipation. This module not only dissipates heat through the radiator, but also has the function of full structure heat dissipation through special structural design".

Intelligent lighting

concepts touted

as the

current domestic

hot

<br> <br>, intelligent lighting, its application in the country is significantly lower than other countries, to apply the proportion of households dimming system, the United States accounted for 70%, Europe 40 %, Japan and South Korea 15%-20%, while domestic 1%. However, China has come to the forefront of many technologies, and this will be the case in the field of intelligent lighting.

Chen Yiping, general manager of Sunshine Lighting China, reminded the industry that "in the development of intelligent lighting, there are several issues that need to be addressed, user requirements and user experience, cost, and interchange/interconnection standards in communication technology. After all, lighting products are developed and produced. The original intention is to start from the actual lighting needs to meet the emotional needs of people, so that consumers will be happy to pay."

The power supply is the core component of the LED luminaire, and it is also a costly component in the manufacture of LED luminaires. "Zhongheng Paiwei has a series of solutions for intelligent drive power, including PLC, Zigbee, RS485, DALI, which can be applied in different systems. However, which solution can become mainstream in the future depends on market selection. Liu Hai, general manager of Zhongheng Paiwei, believes.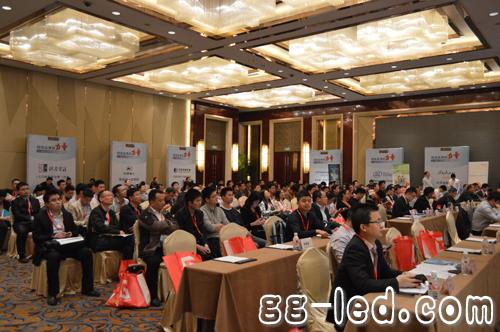 Good product tour Hangzhou station meeting site review

Mingwei Electronics, which has always been optimistic about linear constant current into driving technology, has also been deployed in the field of intelligent lighting. Li Zhaohua, deputy general manager of Mingwei Electronics, said that Mingwei's linear integrated drive technology has been tested in many application companies and achieved good results. At the same time, it has achieved good results in intelligent driving.

In addition, Zhang Luhua, director of Sima De Optoelectronics Project, Yang Dong, vice president of sales of Hyun Shuo Optoelectronics, and Li Chengyu, director of Kegu Power Marketing, also delivered wonderful speeches at the conference.

The tour will provide opportunities for face-to-face communication to enhance understanding between LED component companies and application companies, and increase access to local excellent LED lighting and LED display companies. During the same period of Hangzhou Station tour, Gaogong LED led the suppliers to visit Hangzhou Didi Lighting, Sunlight Lighting and Stellar Lighting.

All companies expressed great enthusiasm for this visit and put forward their own views and suggestions on the status quo and future of the LED supply chain.

Sensor wires can be used in many difference sensors and probes such as NTC Thermistor, NTC Temperature Sensor, PTC sensor and RTD, etc. Electronic measurement, automation and control are most important in almost all industrial sectors. With more than 15 years of experience in cable manufacturing, our engineer can find variety of solutions even your needs are out of our production range, and make new designs as per your requirements.




Sensor Wire

Sensor Wire,2 Wire Sensor,Temperature Sensor Wire,3 Wire Sensor Connection

Feyvan Electronics Technology Co., Ltd. , http://www.fv-cable-assembly.com