China, Beijing, October 8, 2014. Maxim Integrated Products, Inc. (NASDAQ: MXIM) introduces a micro PLC platform that enables designers to implement Industry 4.0 designs with lower power, fewer components, and lower cost. The platform includes five reference designs that run as subsystems and are configured and tested via the computer's USB port.

A programmable logic controller (PLC) is the core module that controls and coordinates the entire plant's sensors and machines. The annual cost of factory maintenance and corresponding production losses is as high as $800 billion. To reduce this cost, Global Industry 4.0 development can make manufacturers' equipment smarter and more efficient. "Intelligent integration" (highly integrated to address a wide range of industrial issues) combined with unique process technology, Maxim's micro PLC platform can reduce the form factor by 10 times, power consumption by more than 50%, digital I / O output data processing speed Speed ​​up 70 times. The platform can quickly and effectively reduce industrial maintenance costs and extend uptime.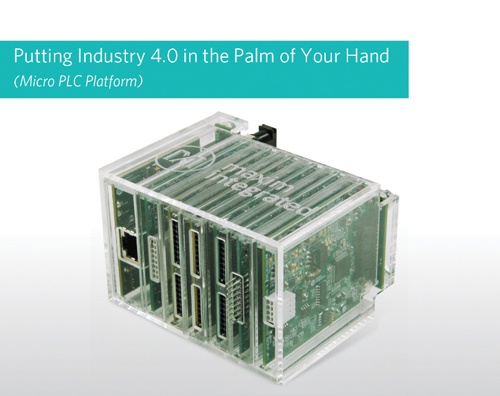 Maxim Micro PLC Platform

Maxim has developed a number of products that support the Industry 4.0 distributed model and work with the Micro PLC platform:

MAX11270: 24-bit, 10mW, sigma-delta ADC with built-in PGA for highest signal-to-noise ratio (SNR) and lowest power consumption in its class

MAX17515: 5A, 2.4V to 5.5V input, full switch mode power supply, built-in inductors, reducing energy consumption and heat efficiency, up to 92% efficiency

MAX17552: 4V to 60V, 100mA, ultra-small, synchronous step-down DC-DC converter that complies with the IEC61131-2 PLC standard, effectively reducing heat consumption by more than 50%

Main advantage

Higher productivity: Digital I/O data processing speeds up to 70 times faster, increasing productivity

Higher efficiency: 50% lower power consumption, allowing fanless operation and higher I/O density

Compact form factor: 10 times smaller form factor, enabling PLC modules to be closer to the factory floor

High integration: Effectively reduce component count, improve reliability, and provide diagnostics to ensure that the production line is up and running 24/7

Evaluation

· Max De Integrated Business Management Executive Director Jeff DeAngelis said: "The micro PLC platform is the result of intelligent integration. We help our customers move to the Industry 4.0 process through professional system knowledge and simulation process integration capabilities. Now our customers can build smaller Faster, more efficient industrial controllers that take control of the future of Industry 4.0."

· Databeans Research Director Susie Inouye said: "The era of Industry 4.0 has arrived. Maxim recognizes the importance of this trend and is committed to improving system efficiency, productivity and reliability."

price information

· The MAXREFDES61# 4-channel analog input board costs $39 each, and provides schematics, layout files, and firmware for free, ready to use.

· For information on other reference designs, visit the Maxim Reference Design Center.

During electronica 2014, the Micro PLC platform will demonstrate Maxim's four-channel analog input system (MAXREFDES61#) as well as the company's digital input modules, digital output modules and IO-Link® host modules.

Electronica 2014

Electronica 2014 will be held in Munich, Germany from November 11th to 14th. Welcome to the Maxim booth (266A4).

About Maxim Integrated

As a leader in analog integration, Maxim is committed to providing smaller, smarter, and more efficient simulation solutions for mobile, industrial and other applications.

Here you can find the related products in Round Panel Light , we are professional manufacturer of Slim Ceiling Light,Round Panel Light,Recessed Panel Light,Slim Recessed Panel Light. We focused on international export product development, production and sales. We have improved quality control processes of Round Panel Light to ensure each export qualified product.


If you want to know more about the products in Round Panel Light, please click the product details to view parameters, models, pictures, prices and other related product about Slim Ceiling Light,Round Panel Light,Recessed Panel Light,Square Panel Light, Pendant Panel Light etc. Except the Led Panel Light , we also can provide Led Down Light , LED Track Light , LED Ceiling Light , LED Linear Light , LED Pendant Light

Whatever you are a group or individual, we will do our best to provide you with accurate and comprehensive message about Round Panel Light!




Round Panel Light

Slim Ceiling Light,Round Panel Light,Recessed Panel Light,Slim Recessed Panel Light

Guangdong Decosun Lighting Technology Co.,Ltd , https://www.decosun-lighting.com