NXP Semiconductors has introduced a fully integrated, highly flexible driver chip solution based on automotive-grade technology for automotive LED headlights and taillight applications. According to NXP, the ASL1010NTK and ASL1010PHN in an 8/16-lead package are the industry's first automotive LEDs that integrate multi-core functions such as direct LED temperature feedback, LED fault detection, internal pulse width (PWM) dimming control, and short-circuit protection. The driver chip, all based on the automotive-grade analog mixed-signal platform, significantly reduces the energy and cost of automotive headlights and taillights.

This article refers to the address: http://

Prem Sharma, marketing and business development manager for NXP Semiconductors' Solid State Lighting Driver Chips Division, said the NXP compact LED driver chip solution consists of only one driver IC plus 11 external components, while the peer solution requires more than 20 peripheral components. As a result, the ASL1010NTK architecture is designed to reduce system cost and development time for lighting control devices and LED designers, reducing time-to-market for customers.

The ASL1010NTK/ASL1010PHN driver chip integrates the core functions necessary for automotive LED lights. This compact, all-in-one solution eliminates the need for additional components. The integrated design of control and management eliminates the redundancy of different platforms and the external MCU. Need, the user does not need to redesign the PCB. For the LED module design, it is beneficial to reduce costs, enhance aesthetics and improve reliability. In addition, NXP's system solution is extremely flexible, independent of the automotive platform, configuration, output voltage and number of LEDs.

Some of the technical features of the solution include: temperature feedback through sensorless temperature sensing by reducing the sense resistor, which controls the temperature and performance of the LED without the need for additional thermal design; no external components such as filters are required. Through the sensitive pulse width modulator (PWM) programming to achieve the resistance grading input control current mode, eliminating the LED ripple current, and at the same time does not cause significant changes in the brightness of the LED, at least the human eye can not observe. The adjustable LED internal PWM generation function allows the same LED to be used as both a daytime running light and a stop light.

NXP's first automotive LED driver chip uses an automatic buck/boost topology to safely drive up to 20 LEDs with standard automotive battery voltage; the output voltage range is 6V to 60V, supporting each of the current market Class LED. In addition, the ASL1010NTK/ASL1010PHN driver chip is based on the ABCD9 technology node - NXP drives the automotive technology platform for analog mixed-signal integration. Prem Sharma revealed that future low-current switches, bus interfaces and multi-channel drivers will be integrated in succession, and the LED driver solution integrated in the bus module has been planned in the NXP technology roadmap.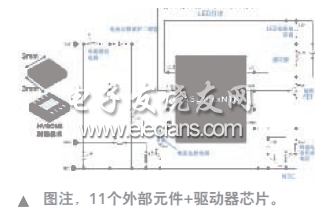 Microsoft Surface Charger have 4 types. For Surface Pro 1/2/3/4.

Surface Pro 1/2: 12V 3.6A

Surface Pro 3: 12V 2.58A

Surface Pro 4: 15V 1.6A




Microsoft charger has different connector with other Laptop Adapter. Its connector is magnetic tip.

Definitely Charge Faster, excellent Power Supply for Microsoft Surface Pro. Just drop it in your bag or even pocket and get going – no need to carry anything else, as power is always within easy reach.

Microsoft Surface Charger

Microsoft Surface Charger,Microsoft Surface RT Charger,Microsoft Surface Tablet Charger,Charger For Microsoft Surface

Shenzhen Waweis Technology Co., Ltd. , https://www.waweis.com