Osram Opto Semiconductors has introduced the Osram Ostar Stage LED with an illumination of up to 48 million cd/m2 (48Mcd/m2) and an adjustable tonal range from cool white to warm white. Its extremely slim design combined with an anti-reflective coating on the cover glass surface creates a very narrow beam and is the cornerstone of a compact spotlight. This LED is the ideal source for stage shake headlights, trade show booth lighting and architectural lighting.

What makes the new LED special is its adjustable white light. Two warm white and two cool white chips are diagonally placed in the package, which not only achieves perfect component-level color fusion, but also produces color temperature between 2700K (warm white) and 10,000K with proper control (cold white) ) All white tones between. The LED's warm white and cool white light color rendering index can reach 94 and 74 respectively.

This LED uses a non-conventional lens, but a cover slip with an anti-reflective coating that is very beneficial for injecting light into the lens system. It follows the optical expansion of its predecessor (ie, the emission angle/area ratio of the illuminated surface to the projected surface), and with external optics, it produces a very narrow beam (+/-9°), the beam is only Half of the spotlights in plastic-encapsulated LEDs are used as light sources, while the illumination of spotlights is doubled.

Thanks to the coverslips used, the Osram Ostar StageLED is flatter and slimmer than the standard components. Its height is 1.23mm, which is only a quarter of the common components; the package size is only 5.9mmx4.8mm, so it can create an extremely compact spotlight.

All versions of OsramOstarStage are based on the superior OsramOstarSMT platform and are suitable for standard soldering processes. The chip is fabricated using cutting-edge thin film technology, and the internal light is emitted almost entirely from the top, making this LED ideal for use with external optics. In continuous operation (DC) mode, the chip can handle operating currents up to 900mA, so cool white (10,000K) brightness values ​​up to 390lm, warm white light (2700K) can reach 210lm.

In addition, its typical thermal resistance is as low as 1.8K/W, so there is no need to worry about heat dissipation. This LED lasts for more than 50,000 hours and gives the moving headlights and architectural lighting a long life.

The floor tile screen features simple installation and strong applicability. It is suitable for indoor and outdoor use. The bearing capacity can reach 2 tons. The surface is made of PVC material. The surface is frosted. It has waterproof and antiskid functions. The bottom bracket is directly installed without other installation equipment. The base has screw design and the height can be adjusted.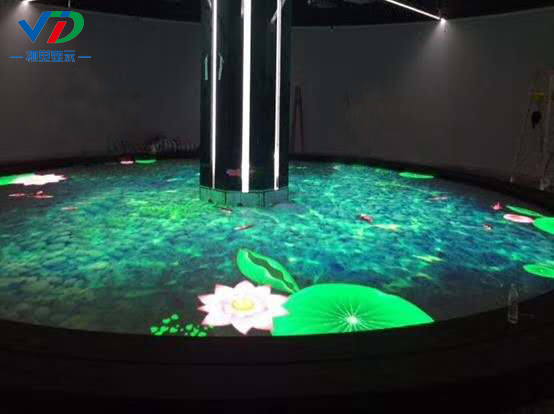 Product effect: interactive tile screen reacts in millisecond when people interact with tile, and the perfect combination of real people and screen. Interactive tile screen is divided into intelligent interactive tile screen and radar interactive tile screen. They have their own characteristics in use: intelligent interactive tile screen without external equipment, clean appearance, simple installation, random splicing, radar interactive tile screen with external interactive radar, applicable to glass mutual Moving plank road screen and outdoor bad weather make the interactive floor tile screen perfectly displayed in all application occasions




Installation features and precautions: the floor tile screen is installed with a base and adjusting screws to effectively ensure the flatness of the screen body, leaving a certain gap at the bottom for drainage and heat dissipation. Before installing the floor tile screen, the floor should be reserved with a certain depth, which should be flush and beautiful with the floor after installation.




Application scenario: the box size is mainly 500 * 1000mm and 500 * 500mm, mainly used in stage, concert, performance, bar, disco, shopping center and other fields.







Maintenance: front and rear maintenance, can directly replace a single box and a single module, without removing the adjacent box.




Display effect: highlight, good consistency, no time difference between interaction with people, people and stage display complement each other. Truly achieve the effect of integration of interaction.




Screen principle and structure: the screen has built-in intelligent interactive equipment with many contacts and sensitive sensing. The box body is directly connected with waterproof aviation plug, and the installation is quick.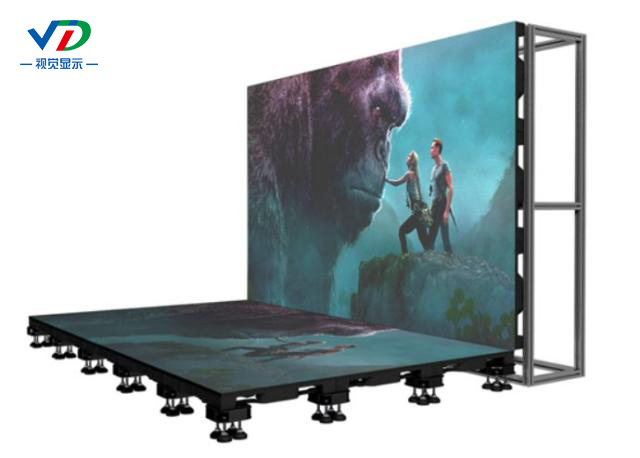 Interactive Dance Floor Screen

Magic Stage Screen,Search Dance Floor LED,Easy Installation LED Screen

Shenzhen Vision Display Technology Co,.LTD , https://www.ledvdi.com